Did you know that GTrans now participates in the GoPass Program? Using a registered TAP card, students from participating school districts can ride for free to and from school and on trips after school and on weekends. If a student is already part of the TAP K-12 Reduced Fare program, they will need to pick up a new Fareless K-12 card from their school to register in the portal. Students can ride on any participating transit system.
Frequently Asked Questions
What is the GoPass Student Fareless Program?
A new pilot program for students at participating K-12 and Community Colleges to help students ride transit for free
Who is eligible to participate in the program?
LA County K-12 and Community College students who attend GoPass participating schools, and have received an eligible GoPass TAP card or unique registration code and registered on the portal at https://www.taptogo.net/fareless.
Can a parent ride free when they accompany a student?
No. Parents, caretakers, friends from other school districts will need to pay appropriate fare.
If I have an existing reduced student fare TAP card and I attend a GoPass school, how do I ride for free?
Even if you have a reduced fare student TAP card, you will need to obtain a new GoPass card from your school in order to ride for free.
How do I register my Free Fare TAP card?
To register, choose one of these steps: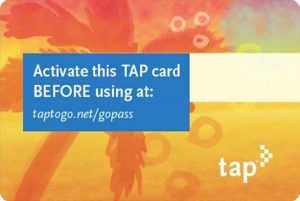 If I do not attend a GoPass school, will my student reduced fare TAP card still work?
Yes, your existing student reduced fare TAP card can be used to load regular student fare and to continue to ride all TAP agencies.
I registered my GoPass TAP card. What's next?
Wait 60 minutes, the tap your card on a bus or rail farebox or validator to add your Go Fareless Pass. TAP cards must be tapped within 90 days of registration. The GoPass for Year 1 of the pilot program will allow you to ride free on participating GoPass Agencies through July 2022. For a list of participating agencies visit www.metro.net/fareless.
I lost my GoPass TAP card with my fareless pass. How can I replace it?
See your school administrator for a new TAP card, then visit www.taptogo.net/fareless/lostcard to register a new card. The original card will be deactivated automatically.