GTrans Restoration Plan Summary:
(Updated March 2023)
Over the last few years, GTrans had to quickly adapt to the impacts of COVID-19 and the federal, state and local mandates that were implemented to stop the spread of the virus. Working through the restrictions, GTrans' service remained a lifeline for many who needed to take essential trips to medical appointments, essential jobs, grocery store, etc. During this time, a significant reduction in ridership and manpower required GTrans to reduce its service significantly. Through these challenges, GTrans was able to deliver service safely, protecting our employees and customers with rear-door boarding, physical distancing, facemask requirements and capacity restrictions.
As the restrictions of COVID-19 continued to be lifted, GTrans worked on a plan to restore service to pre-pandemic levels. Within the last few years, GTrans has continued to work towards restoring service per the plan. The Gardena City Council approved a set of service improvements following extensive public outreach in late 2019 that were to go into effect in early 2020. However, because of the pandemic, the approved service changes were not implemented at that time and instead a temporary modified schedule was set for each line.
UPDATE:
Due to the manpower shortages being experienced nationwide across multiple transit agencies, the restoration of service has been slower than expected.
Lines 1X, 3, and 5 will continue running on the modified schedule. Line 2 was restored on April 18, 2021. Regular Line 4 service will continue to remain on hold.
Within the last year, GTrans has increased its recruiting efforts and is training new bus operators in hopes of continuing the restoration. As we work to rebuild our team, we will continue to review each line to adjust where possible to help meet the needs of our customers.
As of March 2023, GTrans is continuing to hire Relief Bus Operators and has released the RFP to find a vendor that will assist with providing software for our proposed Microtransit service.
Any service restoration updates will be announced on GTrans' website, social media, and buses. If you have any questions regarding our service or Restoration Plan, please contact us at 310-965-8888.
Line 1X
Currently, Line 1X is running the weekend schedule on weekdays; Saturday and Sundays have continued on their normal schedule. The plan is to restore service to 2019 City Council-approved levels and resume traveling to downtown Los Angeles during peak periods only. As approved, there will be no service to downtown between 9:00 a.m. and 1:00 p.m.
Line 2
Weekday service was restored to 2019 City Council-approved levels on April 18, 2021. This service currently operates every 15 minutes on weekdays and every 30 minutes on weekends.
Line 3
Currently, Line 3 is running the weekend schedule on weekdays; Saturday and Sundays have continued on their normal schedule. The plan is to restore service to pre-COVID levels, to include 2019 City Council approved weekend service offering Saturday service between 7:00 a.m. – 9:00 p.m. and Sunday between 7:00 a.m. – 8:00 p.m. Service to Bishop Montgomery High resumed for morning and afternoon service.
Line 4
On August 17, 2021, limited morning and afternoon service on school days was restored and will continue during the academic year.
Regular Line 4 service is on hold until further noticed.
Line 5
Currently, Line 5 is running a modified weekday schedule with a 60-minute frequency. The plan is to restore service to its regular pre-pandemic schedule, operating on weekdays only between 4:35 a.m. and 8:57 p.m.
Line 7X
GTrans implemented Sunday service to the Inglewood Sports and Entertainment District out of the Harbor Gateway Transit Center on September 12, 2021. The line has become a permanent part of the GTrans' fleet effective on July 24, 2022. The line will run only on Sundays every thirty minutes from 8:30 AM to 8:30 PM.
New Microtransit Service
GTrans is exploring a new microtransit service that will be presented for City Council consideration, which will improve our Special Transit program and provide new access to all customers with origins and destinations within the City of Gardena. This on-demand, rideshare service uses "virtual stops" from which customers would be able to take short trips using small vehicles. Trips will be scheduled on-demand using a phone, a computer or a smart phone app.
GTrans Restoration Plan Summary Table: Please click to view image.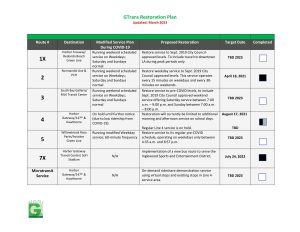 PREVIOUS PUBLIC MEETINGS
Thursday, March 31, 2022 at 6:00 p.m. Public Hearing on Line 7X & Child Fare Policy Change Presentation (Includes an update on the Restoration Plan)
Wednesday, July 28, 2021 at 6:00 p.m. Service Restoration Plan Public Meeting Presentation