The City of Gardena's Bring it on the Blvd Downtown Street Fair will be on Saturday, June 3, 2023 from 11:00 AM to 3:00 PM.
Gardena Blvd will be closed from Vermont Ave. to Berendo Ave. beginning at 9:00 AM.
Our Line 1X and Line 3 will be rerouted on this day and will not stop along Downtown Gardena. We are sorry for any inconvenience. If you have any questions, please call us at 310-965-8888. Please see the image below for the reroutes:
Line 3 Eastbound will continue south on Vermont and make a left on Gardena Blvd. Line 3 Westbound will not be affected.
Line 1X North will travel south on Normandie to 168th and north on Vermont.
Line 1X South will travel south on Vermont to 168th, north on Normandie, and east on 166th.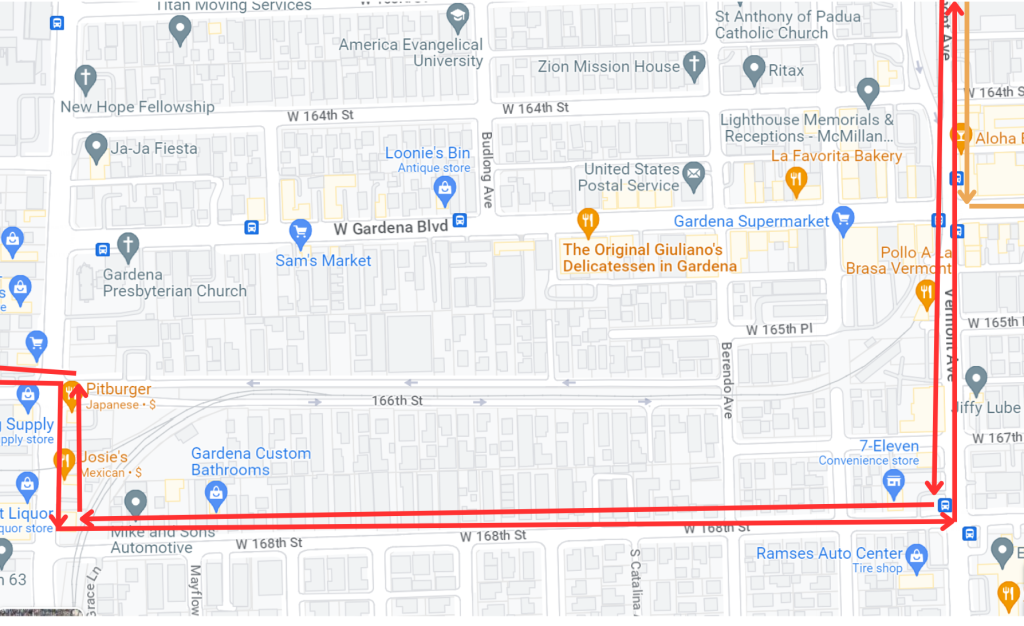 6/10 JOB FAIR: Hiring Operators & Transit Mechanics

GTrans is hosting a Job Fair on June 10th! We are hiring part-time Relief Bus Operators and Transit Mechanics! We will have interviews on the spot! DATE: Saturday, June 10, 2023 TIME: 8:00 AM – 2:00 PM LOCATION: Nakaoka Community Center, 1670 W 162nd St, Gardena, CA 90247 Bring your Driver's License! SAVE TIME AND

Read more…

SERVICE ALERT: Line 3

Line 3's Broadway and Gardena Blvd stop is temporarily closed due to construction in the area. Please board the bus at Figueroa St. and Gardena Blvd. We are sorry for any inconvenience. Please plan your trip accordingly. If you have any questions, please contact us at 310-965-8888.

SERVICE ALERT: Memorial Day, 5/29

On Monday, May 29, 2023, the GTrans buses will run on the modified weekend schedule in observance of Memorial Day. If you have questions, please contact GTrans at (310) 965-8888 (Mon-Fri 8:00 a.m. – 5:00 p.m.). Please plan your trip accordingly. The Customer Service Office will be closed on this day. Schedule: Line 1X Line 2 Line

Read more…