GTrans is proposing some changes to our routes in order to provide improvements throughout our transit system. But first, we want to hear from our GTrans customers. Then, our City Council will decide on each proposed service change. Approved service changes will go into effect in January 2020. Please read on to learn more about our proposed service changes.
More information can be found in the City of Gardena's GTrans formal 2020 Proposed Service Change presentation.
---
Line 1X
Eliminate Weekday Midday Service to Downtown LA between 9:00 a.m. – 3:40 p.m.
We are proposing to eliminate mid-day service on Line 1X between the hours of 9:00 a.m. – 3:40 p.m. due to low ridership and high cost to operate. We will reinvest those dollars into improved service on Line 2. Please see more details on Line 2 below.
---
Line 2
Adjust Weekday Running Times to Improve On-Time Performance
We are proposing minor adjustments to add additional time on Line 2 service during weekday peak periods to improve on-time performance and overall service.
---
Line 3
1. Adjustments to Weekend Span of Service: Operate Separate Saturday and Sunday Schedule
We are proposing to operate Line 3 service between the hours of 7:00 a.m. – 9:00 p.m. on Saturday and between the hours of 7:00 a.m. – 8:00 p.m. on Sunday to match our service levels to passenger demand. we also want to improve connections to Metro Rail and local activity centers.
2. Eliminate Bishop Montgomery School Tripper
We are proposing to eliminate the Line 3 School Tripper service to Bishop Montgomery High School effective June 2020 due to low ridership. We will put these resources back into the system to further improve our service.
Line 3 School Tripper Proposed Service Cancellation
---
Line 4
Eliminate Line 4 Route Segment
GTrans is proposing to eliminate a segment of Line 4 operating between Hawthorne Blvd/147th St. and Crenshaw Blvd. / Manhattan Beach Blvd. This section of the route is already served by GTrans Line 1X on Marine Ave. We will reallocate these dollars back to our service to improve on-time performance and overall service.
Proposed Line 4 Service Changes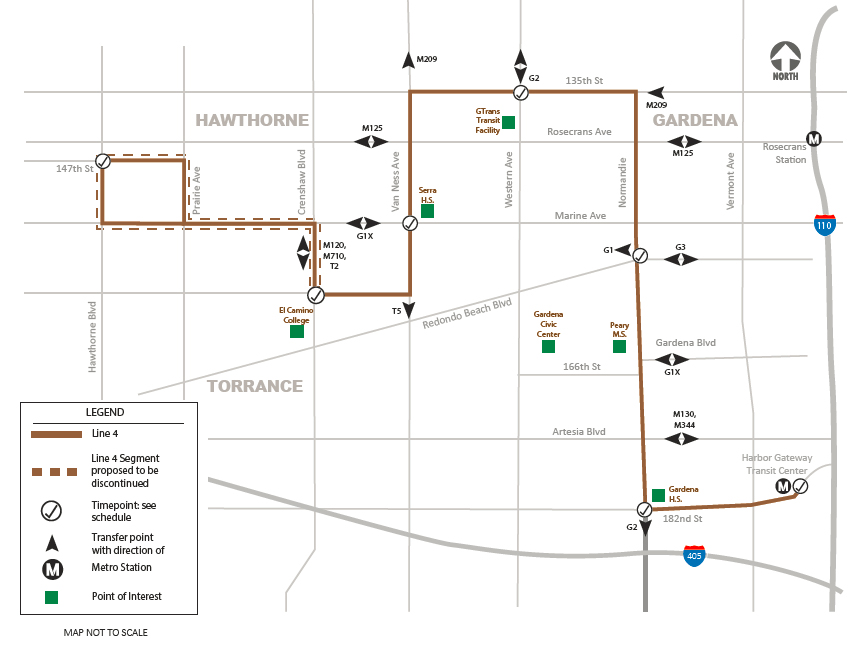 ---
We want to hear what you think about our proposed service changes. GTrans will be holding community meetings in August and September to get your feedback. If you need translation assistance, please contact us by email at proposedchanges@cityofgardena.org 72 hours prior to the meeting you would like to attend with your request. Please join us at one of the following locations:
Wednesday, August 21st at 7:00 p.m.
GTrans Administration Building
13999 S. Western Ave. Gardena, CA 90249
Tuesday, September 3rd at 7:00 p.m.
Memorial Park
3901 W. El Segundo Blvd. Hawthorne, CA 90250
Saturday, September 7th at 10:00 a.m.
Ken Nakaoka Community Center
1670 W. 162nd St. Gardena, CA 90247
If you can't make it to one of our community meetings, please take some time and leave us your comments in the comments box below. You may also contact us by email or phone to leave us your feedback on the proposed service changes. All comments must be submitted by Wednesday, September 11th at noon.
Email: proposedchanges@gardenabus.com
Phone: (310) 965-8888
Comment Form
Please leave your comments in the box below.